Since the 1980s we've lived on forty acres of lesbian land. I've always wanted to post signs declaring it LESBIAN LAND to make clear our boundaries. The threat of male violence prevents me from taking this bold action. My desire is trivial in the larger picture. I mention it as one tiny example of the invisible barrier to action: our fear of male violence.


The threat of male violence surrounds women and girls as a daily reality. Today in the US, books are banned. Assault weapons are not! Mass shootings are regular occurrences we can anticipate as part of daily life. Male shooters are the norm. Male violence is the central tool of dominance.
In 1979 Andrea Dworkin wrote, "Women of supreme strength who have lived in creative opposition to the male cultural values of their day have been written out of history – silenced."
Today, we are the "women of supreme strength who are living in creative opposition"! Many of the male dominated institutions of patriarchy have joined the march toward the "elimination of female Self-centering reality", as Mary Daly warned in Gyn/Ecology, 1978. Currently, academia and medicine are leading the march in silencing anyone questioning the idea that men can be women if they so choose. Much of the media and many politicians agree with the new dogma that centers the demands of males. As Susan Unterberg said in 2018, "Men in power support men in power, and they want to see men in power."
Why is this new, and strictly enforced, dogma useful to patriarchy and to men? Daly again helps us unravel the convoluted reality we are facing.
"Male propagation of the idea that men, too are feminine – particularly through feminine behavior by males – distracts attention from the fact that femininity is a man-made construct, having essentially nothing to do with femaleness."
Male-defined femaleness is false and is only useful in the scheme of male domination of women and girls.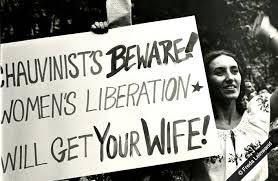 Who gets to define "woman"? Who gets to decide? We live in an era where "woman" is disputed territory! Respected British Professor Kathleen Stock, who is a lesbian, wrote, "Controversial and difficult ideas need to be tested in the public square, we need to think about them properly and we also need to enable discussion of ideas that seem attractive to people because if you try and shut it down there will be massive public resentment."
Stock was forced to resign her faculty position in October of 2021 after a barrage of intimidation and threats, and having to live surrounded by body guards. The threats have continued.
However, in March of 2023, Kathleen Stock, Martina Navratilova and Julie Bindel started The Lesbian Project https://www.thelesbianproject.co.uk/ to "highlight and champion the experiences, insights and sensibilities of lesbians in their diversity". Stock further explained "Lesbians will always exist but we're in a crisis in which young lesbians don't want to be associated with the word. Some of them want to describe themselves as queer and some of them prefer not to see themselves as women but as non-binary."

"Allow women and girls to speak on sex, gender and gender identity without intimidation or fear" UN expert in a recent press release
Did you see headlines or hear news stories three weeks ago when the United Nations documented this reality? The press release (below) clearly describes the hostility, intimidation and violence directed at women and our allies for expressing our own political opinions and views. https://www.ohchr.org/en/press-releases/2023/05/allow-women-and-girls-speak-sex-gender-and-gender-identity-without
This valuable report, written in clear language, documents the realities of threats and violence we as gender critical feminists face! Early in the report law enforcement is named, as it at times fails to protect and safeguard our right to assembly and to speak. Read this valuable overview. Share it with friends and family. Our powerful voices must be heard. We understand that to replace biological sex with gender designations will only serve patriarchy.

GENEVA (22 May 2023) – Threats and intimidation against women expressing their opinions on sex and sexual orientation is deeply concerning, said Reem Alsalem, the UN Special Rapporteur on violence against women and girls in a statement today.

"In the context of disagreements between some women's rights activists and transgender activists in a number of countries in the Global North. Alsalem warned that violence against women and intimidation against people for expressing differing views.
Discrimination based on sex and sexual orientation is prohibited in international and regional human rights law.

I am concerned by the shrinking space in several countries in the Global North for women and feminist organisations and their allies to gather and/or express themselves peacefully in demanding respect for their needs based on their sex and/or sexual orientation.

Law enforcement has a crucial role in protecting lawful gatherings of women and ensuring women's safety and rights to freedom of assembly and speech without intimidation, coercion, or being effectively silenced. It is clear that where law enforcement has failed to provide the necessary safeguards, we have witnessed incidents of verbal and physical abuse, harassment, and intimidation, with the purpose of sabotaging and derailing such events as well as silencing the women who wish to speak at them.

I am disturbed by the frequent tactic of smear campaigns against women, girls and their allies on the basis of their beliefs on non-discrimination based on sex and same-sex relations. Branding them as "Nazis," "genocidaires" or "extremists" is a means of attack and intimidation with the purpose of deterring women from speaking and expressing their views. Such actions are deeply troubling, as they are intended to instill fear in themshame them into silence, and incite violence and hatred against them. Such acts severely affect the dignified participation of women and girls in society. 

I am also concerned by the way in which provisions that criminalise hate speech based on a number of grounds, including gender expression or gender identity, have been interpreted in some countries. Women and girls have a right to discuss any subject free of intimidation and threats of violence. This includes issues that are important to them, particularly if they relate to parts of their innate identity, and on which discrimination is prohibited. Holding and expressing views about the scope of rights in society based on sex and gender identity should not be delegitimised, trivialised, or dismissed.

According to international human rights law, any restriction on freedom of expression should be carried out strictly in accordance with the human rights standards of legality, necessity, proportionality and to serve a legitimate aim. Those disagreeing with the views of women and girls expressing concerns related to gender identity and sex also have a right to express their opinion. However, in doing so they must not threaten the safety and integrity of those they are protesting against and disagreeing with.Sweeping restrictions on the ability of women and men to raise concerns regarding the scope of rights based on gender identity and sex are in violation of the fundamentals of freedom of thought and freedom of belief and expression and amounts to unjustified or blanket censorship.

Of particular concern are the various forms of reprisals against women, including censorship, legal harassment, employment loss, loss of income, removal from social media platforms, speaking engagements, and the refusal to publish research conclusions and articles. In some cases, women politicians are sanctioned by their political parties, including through the threat of dismissal or actual dismissal."

Reem Alsalem is the UN Special Rapporteur on violence against women and girls, its causes and consequences.
I'm closing with the strong language offered by Andrea Dworkin,
"The public censure of women as if we are rabid because we speak without apology about the world in which we live is a strategy of threat that usually works. Men often react to women's words – speaking and writing – as if they were acts of violence; sometimes men react to women's words with violence. So we lower our voices. Women whisper. Women apologize. Women shut up. Women trivialize what we know. Women shrink. Women pull back. Most women have experienced enough dominance from men – control, violence, insult, contempt – that no threat seems empty." Intercourse (1987)
Let's brainstorm about how we can share this vital report from the UN–perhaps have a Speakout where we read sections and then have women "testifying". Just one thought! We can't let this report get buried. Send it to your local newspaper. We have some power here! And powerful voices!


Sources and further readings:
About the UN report:
The Special Rapporteurs, Independent Experts and Working Groups are part of what is known as the Special Procedures of the Human Rights Council. Special Procedures, the largest body of independent experts in the UN Human Rights system, is the general name of the Council's independent fact-finding and monitoring mechanisms that address either specific country situations or thematic issues in all parts of the world. Special Procedures' experts work on a voluntary basis; they are not UN staff and do not receive a salary for their work. They are independent from any government or organization and serve in their individual capacity.
More from "Kathleen Stock: Gender-critical academic 'determined' to do talk"
Prof Stock rejects the claim her views could be classed as hate speech.
She said: "It's not hate speech to say that males cannot be women.
"You can believe what you like, and I'm not stopping anybody believing any different, but it's certainly not hate speech to say that and that's basically the most controversial thing, I think."
Prof Stock believes controversial views should be tested in public.
"It's important younger generations are exposed to ideas they haven't come across before. Sometimes that will be very challenging to them," she said.
"Controversial and difficult ideas need to be tested in the public square, we need to think about them properly and we also need to enable discussion of ideas that seem attractive to people because if you try and shut it down there will be massive public resentment."
https://www.bbc.com/news/education-65714821
The march of mechanical masculinist progress is toward the elimination of female Self-centering reality." – Mary Daly, Gyn/Ecology:
Women of supreme strength who have lived in creative opposition to the male cultural values of their day have been written out of history – silenced." Andrea Dworkin,
"For Men, Freedom of Speech; For Women, Silence Please" (1979)
The public censure of women as if we are rabid because we speak without apology about the world in which we live is a strategy of threat that usually works. Men often react to women's words – speaking and writing – as if they were acts of violence; sometimes men react to women's words with violence. So we lower our voices. Women whisper. Women apologize. Women shut up. Women trivialize what we know. Women shrink. Women pull back. Most women have experienced enough dominance from men – control, violence, insult, contempt – that no threat seems empty." Andrea Dworkin, Intercourse (1987)
"All human life on the planet is born of woman. The one unifying, incontovertible experience shared by all women and men is that months-long period we spent unfolding inside a woman's body.
….most of us know both love and disappointment, power and tenderness, in the person of a woman.
We carry the imprint of this experience for life, even into our dying." (all from pg 11)
Of Woman Born: Motherhood as Experience and Institution by Adrienne Rich, 1976