Tools to Fight Back > Amend the Equality Act
The Equality Act (U.S. Senate Bill 788 and House Bill 5) is supposed to be legislation to protect Lesbians, gay men, bisexuals, and transgender people from discrimination. However, as currently written, the bill enshrines transgender ideology and takes away critical women's rights. If this act becomes law in anything resembling its current form, the Equality Act will be a disaster for Lesbians, women and girls.
We need an Equality Act to provide protection to Lesbians and gay men and to gender non-conforming people, like those who identify as "transgender." Fortunately a feminist group, Feminists in Struggle, has written an amended version of the Equality Act that will protect everyone. Here is more information about these Feminist Amendments to the Equality Act.
Write or call your Senators and Representative now. Here is a sample letter from the Coalition for the Feminist Amendments that you can personalize and send.
Here is a flyer you can print out and use to spread the word about the problems with the Equality Act. You can put this flyer up anywhere, from your local grocery store to your public library. It is very important to make sure that women from all walks of life all over the U.S. understand what a problem the current version of the Equality Act will become if it is not amended. Here is a simple action that any of us can do!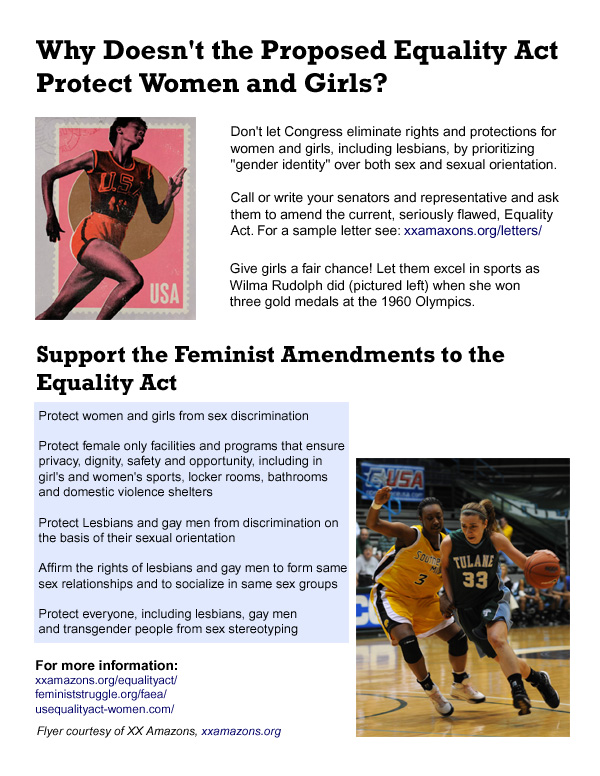 Download a copy of the flyer to print out: Download the PDF flyer to print out and distribute in your city or town.
Make a Facebook post: Copy a smaller graphic you can use to make a post on Facebook or other social media.
Email out a copy of the flyer: Copy a smaller graphic of the flyer you can email out to your friends.