By Jeanne Neath
1. The word woman is in danger of losing its meaning, an adult human female who has had the experience of living as a girl and a woman. Transactivists want their term, "gender identity," to replace sex in defining "woman." Male transgender people ("transwomen") want to be considered women. They can't change their sex – they can never become female – so want to use "gender identity" instead. Anyone can claim the "gender identity" of "woman" because "gender identity" is a person's "internal sense" of being a woman or man. With self-identification laws, a male can be considered a woman just because he says he is.
2. The movement for the liberation of women is at serious risk. Women are oppressed on the basis of our sex, not gender identity. Many social structures, including gender, are created by patriarchal societies to justify and carry out that oppression. If women can't organize as women, meet in women only groups and speak freely there can be no liberation of women. See #10 and #11 below.
3. Harmful sex role stereotypes are strengthened by acceptance of the practice of transitioning. Even young girls who violate norms of femininity (by liking toy trucks or boys clothes) are targeted for transition. Changing bodies to match "gender" is a conservative approach that says sex, a biological reality, is easier to change than "gender identity," a feeling that can change over time and that the two have to match. Girls and women should be free to act in masculine or feminine ways.
4. Women and girls lose their rights to privacy and safety in public places where they undress and sleep. This includes battered women's shelters, girls' locker rooms in public schools, nursing homes, hospitals, homeless shelters, prisons, and public restrooms.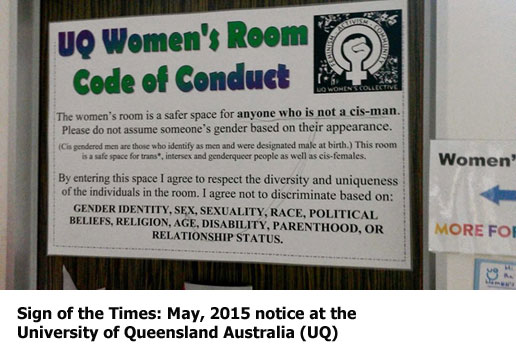 5. Women and girls are being shamed for our female bodies. We are being told we shouldn't talk about the functioning of our female bodies because to do so makes male transgender people feel left out. Like other males they do not menstruate, can't get pregnant and have a penis instead of a vulva.
6. Male transgender people have an unfair advantage when they are allowed to compete in women's sports due to the structure of their male bodies and testosterone levels higher than women.
7. Crime data becomes inaccurate and women appear to be more violent than we are when demographic data lumps transgender people with male bodies together with women.
8. Medical data is compromised. Feminists had to fight to force medical researchers to study women's medical conditions and symptoms. Now research may categorize male-born transgender people as women or female.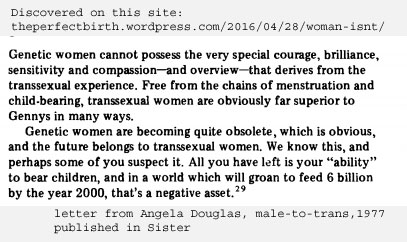 9. Females who transition (i.e. "transmen") engage in painful and harmful practices. These can include hysterectomy, double mastectomy and binding of breasts. Breast binding commonly results in back and chest pain, bad posture, shortness of breath, and itchiness. Many report numbness, dizziness, and fatigue. At Fenway Health Clinic, females taking testosterone therapy sign a consent form acknowledging possible permanent baldness, facial and body hair growth, and sterility. Risk is increased for diabetes, endometrial and breast cancer, liver damage, heart attack, and stroke.
10. Women who speak of these consequences or criticize transgender beliefs or practices are at risk of threats, including death threats, physical violence, de-platforming, being fired, and silencing. This repression is a direct attack on feminist thought, an attempt by transactivists to control what is permissible for feminists to think and say.
11. Feminist and other female only groups are forced underground through hostile campaigns by transactivists. Venues refuse to allow women only groups to meet for fear of transactivist attack.