Gender Critical Websites | Gender Critical Books | Detransitioning | Special Thanks To
Gender Critical Websites
GenderTrender Radical Feminist blog commenting on transgender activism against feminists.
4th Wave Now Website for gender-skeptical parents and their allies. Values tolerance; commenter opinions span the political spectrum. Recognizes that all parents of trans-identified youth –from the left, right, or center–need a place to talk openly. Gives voice to an alternative to the dominant trans-activist and medical paradigm currently being touted by the media.
Transgender Trend Parents questioning the trans narrative. This group of parents based in the UK are concerned about the current trend to diagnose 'gender non-conforming' children as transgender. They are concerned that the increased public awareness of transgender issues has led to parents worrying unnecessarily about normal childhood behaviours. Read More
Female Erasure The website for the book, Female Erasure: What You Need to Know About Gender Politics' War on Women, the Female Sex and Human Rights. Includes interviews with some of the contributors to the anthology and reviews of the book. Also a list of discussion questions such as "what is the difference between sex and gender" and "who is responsible for physical violence against trans people."
Banned by Trans Who's silencing who? This website contains a list of people have been punished, to varying degrees, for perceived offenses against trans people or trans ideology. The listing is organized into categories of: murder, assault, explicit censorship, and general intimidation by transactivists.
TERF is a slur Website that documents the abuse, harassment and misogyny of transgender identity politics. The examples (screenshots) collected here include threats of violence, harassment and abuse; erasing female biology; centering trans women in feminism and women's space; cotton ceiling and autogynephilia and more.
Gender Critical Books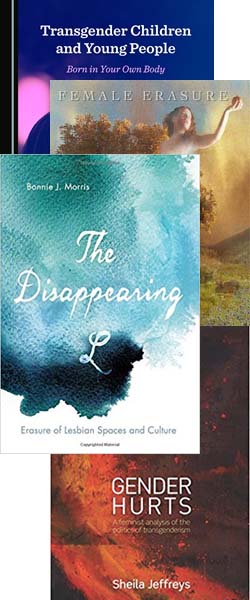 Female Erasure: What You Need to Know About Gender Politics' War on Women, the Female Sex and Human Rights
Edited by Ruth Barrett
"The book you hold in your hands bears witness and exposes the current trend of gender identity politics as a continuation of female erasure and silencing as old as patriarchy itself. The national conversation is ignited by forty-eight voices that celebrate female embodiment while exploring deeper issues of misogyny, violence and sexism disguised today as progressive politics… Read More
Gender Hurts: A Feminist Analysis of the Politics of Transgenderism
By Sheila Jeffreys
"Feminists fighting to free women from male definitions of what a woman is now find themselves assailed by male transgender activism claiming the right to make precisely such a definition. This clash of human rights has produced more heat than light. But Jeffreys illumines it by countering misogynistic threats of violence with scholarly research and reason. In a climate rife with pain on both sides, toxic with stereotypes, ignorance, misunderstanding,, and fear, she dares to offer clarity. Even those who disagree iwth her must surely recognize that as an act of courage." Robin Morgan's endorsement from the back cover
Transgender Children and Young People: Born in Your Own Body
Edited by Heather Brunskell-Evans and Michelle Moore
This collection of essays from Britain comes from a wide range of women and men who are concerned about the practice of transgendering children. The contributors include parents of children who identify as transgender, de-transitioners, academics, a transgender person, lesbians, psychotherapists and feminist activists. The authors "conclude that today's medical and social trend for trangendering children is not liberal and progressive, but politically reactionary, physically and psychologically dangerous and abusive.
The Transsexual Empire: The Making of the She-Male
By Janice G. Raymond
This book is the feminist classic from 1979 on the "methods and motives of the medical psychiatric empire" that has been built "around sex change operations."
The Disappearing L: Erasure of Lesbian Spaces and Culture
By Bonnie J. Morris
"LGBT Americans now enjoy the right to marry – but what will we remember about the vibrant cultural spaces that lesbian activists created in the 1970s, 80s, and 90s? Most are vanishing from the calendar – and from recent memory. The Disappearing L explores the rise and fall of the hugely popular women'only concerts, festivals, bookstores, and support spaces built by and for lesbians in the era of woman-identified activism." From the back cover.
Detransitioning
Blood and Visions: Womyn Reconciling with Being Female
This 65 page booklet features writings by 10 womyn who stopped their transition from female to male. These writings include profoundly personal stories, political analysis, practical advice, and resources for womyn who struggle with dis-identification from their female reality. Deeply moving and informative for all women concerned about the wholeness of our womanhood — and our sisterhood
Purchase Blood and Visions from Green Woman Store
Autonymous Womyn's Press, publisher of Blood and Visions. They plan to expand Blood and Visions into a book in the future and were recently accepting submissions on the topic of "How right wing religious fundamentalism helps create the conditions which lead to dis-identification with the female sex."
Review of Blood and Visions by Purple Sage
Special Thanks To
Max Dashu and the Suppressed Histories Archives XX Amazons gives many thanks to Max Dashu for the ancestral female icons featured in our sidebar and other areas of our website. Max Dashu founded the Suppressed Histories Archives in 1970 to research women's history internationally and understand how systems of domination established and perpetuate themselves. She has built a collection of some 15,000 slides and 100 shows.
Liza Cowan and Small Equals Thanks to Liza Cowan for her Amazons On The Move artwork featured on our About Us page and for the photo of Alix Dobkin. Liza's shop, Small Equals, "offers fine art prints, buttons and home goods with sophisticated design, affordable prices, and a belief that powerful ideas can be expressed in beautiful, positive and uplifting ways." Liza's work "found surprising fame" in 2015 when a 1975 photo she took of Alix Dobkin wearing a t-shirt with the slogan "the future is female" was discovered on her blog. Since then "the shirt and the slogan became, and remain, a worldwide viral sensation." She still has a few of "The Future is Female Buttons" she made in 1975 for sale in her shop!