Gender Critical Websites | Gender Critical Books | Detransitioning and Trans Regret | Radical Feminist Resources | Anti-Racism Resources | Lesbian Resources | Special Thanks To | Gender Critical Articles | Feminist-Queer-Transgender Debate | Identity Theft (Appropriation) | Transgender Children? | Transgender Voices |
Gender Critical Websites
GenderTrender Radical Feminist blog commenting on transgender activism against feminists.
4th Wave Now Website for gender-skeptical parents and their allies. Values tolerance; commenter opinions span the political spectrum. Recognizes that all parents of trans-identified youth –from the left, right, or center–need a place to talk openly. Gives voice to an alternative to the dominant trans-activist and medical paradigm currently being touted by the media.
Transgender Trend Parents questioning the trans narrative. This group of parents based in the UK are concerned about the current trend to diagnose 'gender non-conforming' children as transgender. They are concerned that the increased public awareness of transgender issues has led to parents worrying unnecessarily about normal childhood behaviours. Read More
Female Erasure The website for the book, Female Erasure: What You Need to Know About Gender Politics' War on Women, the Female Sex and Human Rights. Includes interviews with some of the contributors to the anthology and reviews of the book. Also a list of discussion questions such as "what is the difference between sex and gender" and "who is responsible for physical violence against trans people."
Banned by Trans Who's silencing who? This website contains a list of people have been punished, to varying degrees, for perceived offenses against trans people or trans ideology. The listing is organized into categories of: murder, assault, explicit censorship, and general intimidation by transactivists.
TERF is a slur Website that documents the abuse, harassment and misogyny of transgender identity politics. The examples (screenshots) collected here include threats of violence, harassment and abuse; erasing female biology; centering trans women in feminism and women's space; cotton ceiling and autogynephilia and more.
Women Are Human Website dedicated to "exploring the impact of the transgender movement on women and girls, in every aspect of our lives, from identity, safety, legal rights, health care, sexuality, participation in sports, careers and politics, and more." There are descriptions of incidences of violence by transgender persons here.
Gender Critical Books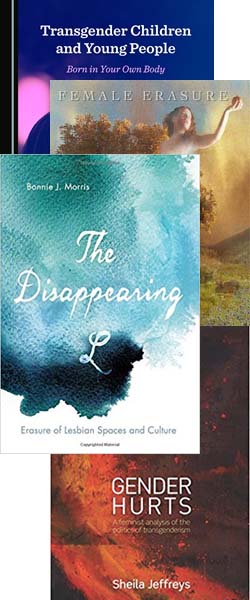 Female Erasure: What You Need to Know About Gender Politics' War on Women, the Female Sex and Human Rights
Edited by Ruth Barrett
"The book you hold in your hands bears witness and exposes the current trend of gender identity politics as a continuation of female erasure and silencing as old as patriarchy itself. The national conversation is ignited by forty-eight voices that celebrate female embodiment while exploring deeper issues of misogyny, violence and sexism disguised today as progressive politics… Read More
Gender Hurts: A Feminist Analysis of the Politics of Transgenderism
By Sheila Jeffreys
"Feminists fighting to free women from male definitions of what a woman is now find themselves assailed by male transgender activism claiming the right to make precisely such a definition. This clash of human rights has produced more heat than light. But Jeffreys illumines it by countering misogynistic threats of violence with scholarly research and reason. In a climate rife with pain on both sides, toxic with stereotypes, ignorance, misunderstanding,, and fear, she dares to offer clarity. Even those who disagree iwth her must surely recognize that as an act of courage." Robin Morgan's endorsement from the back cover
Transgender Children and Young People: Born in Your Own Body
Edited by Heather Brunskell-Evans and Michelle Moore
This collection of essays from Britain comes from a wide range of women and men who are concerned about the practice of transgendering children. The contributors include parents of children who identify as transgender, de-transitioners, academics, a transgender person, lesbians, psychotherapists and feminist activists. The authors "conclude that today's medical and social trend for trangendering children is not liberal and progressive, but politically reactionary, physically and psychologically dangerous and abusive.
The Transsexual Empire: The Making of the She-Male
By Janice G. Raymond
This book is the feminist classic from 1979 on the "methods and motives of the medical psychiatric empire" that has been built "around sex change operations."
The Disappearing L: Erasure of Lesbian Spaces and Culture
By Bonnie J. Morris
"LGBT Americans now enjoy the right to marry – but what will we remember about the vibrant cultural spaces that lesbian activists created in the 1970s, 80s, and 90s? Most are vanishing from the calendar – and from recent memory. The Disappearing L explores the rise and fall of the hugely popular women'only concerts, festivals, bookstores, and support spaces built by and for lesbians in the era of woman-identified activism." From the back cover.
Detransitioning and Trans Regret
Faye reconciles with being female after detransitioning Here is a lesbian feminist testimonial about detransition from a young Black woman. She describes the radical lesbian feminist awakening that was part of her detransitioning process. She suggests that the reasons women transition include trauma associated with our bodies, homophobia and misogyny and wants a "return to a feminism that encourages us to embrace our female bodies."
A Letter to Young Trans People Leanne Mills, a male-born transgender person, has written a caring and thoughtful letter to warn young people that they are not being given the full facts about transitioning.
Blood and Visions: Womyn Reconciling with Being Female
This 65 page booklet features writings by 10 womyn who stopped their transition from female to male. These writings include profoundly personal stories, political analysis, practical advice, and resources for womyn who struggle with dis-identification from their female reality. Deeply moving and informative for all women concerned about the wholeness of our womanhood — and our sisterhood
Purchase Blood and Visions from Green Woman Store
Autonymous Womyn's Press, publisher of Blood and Visions. They plan to expand Blood and Visions into a book in the future and were recently accepting submissions on the topic of "How right wing religious fundamentalism helps create the conditions which lead to dis-identification with the female sex."
Review of Blood and Visions by Purple Sage
Radical Feminist Resources
Rain and Thunder is a Radical Feminist Journal of Discussion and Activism. This grassroots printed publication is "created and distributed by a collective of radical feminist women. Published three times a year, Rain and Thunder brings you the very best in radical feminist news, analysis, theory, community building, and activism."
Sister Outrider: A Black Radical Feminism This is the award-winning blog of Claire Heuchan, a Black radical feminist from Scotland. Her blogs include a series on "Sex, Gender and Sexuality", including writings on lesbian erasure. And much more of interest from series on "Race and the Feminist Movement" to "Black Feminism," "Lesbian Feminism," and a blog on "Young Women and Radical Feminism."
Feminist Current Feminist Current is an online source of feminist news and analysis. They provide "a unique perspective on male violence against women, pop culture, politics, current events, sexuality, gender, and many other issues that are often underrepresented or misrepresented by mainstream, progressive, and feminist media sources." They often publish insightful articles about female erasure and transideology.
Women's Liberation Radio News "WLRN seeks to provide the unique and under-represented voices of girls and women with a national and international grassroots venue to break the sound barrier women are blocked by under the status quo rule of men. We are a non-commercial, member-operated news and cultural information team strictly guided by the principles of radical feminism." See the transcript of their coverage of the "Money Behind the Transgender Movement and Impact on Lesbians."
Women's Liberation Front WoLF is a radical feminist organization dedicated to the total liberation of women. We fight to end male violence, regain reproductive sovereignty, and ultimately dismantle the gender-caste system.
Anti-Racism Resources
Detour- Spotting for White Anti-Racists "This essay examines "detours" into racist attitudes and behaviors taken by even well-intended White People. "Detour Spotting" is a logical, accessible tool designed to help White People of conscience look at our own unintentional racism. Unless we can identify our racist patterns of thought and behavior, we can never interrupt them." By Jona Olsson.
Resources for understanding and fighting racism, sexism and other forms of oppression From Cultural Bridges to Justice. Includes an Internalized Racism Inventory, Internalized Sexism Inventory and much more.
Cultural Bridges to Justice This organization provides anti-oppression and social justice workshops, keynotes, and consulting for not-for-profit organizations and communities.
White Fragility: Why It's So Hard for White People to Talk About Racism
By Robin DiAngelo
"The New York Times best-selling book exploring the counterproductive reactions white people have when their assumptions about race are challenged, and how these reactions maintain racial inequality… Referring to the defensive moves that white people make when challenged racially, white fragility is characterized by emotions such as anger, fear, and guilt, and by behaviors including argumentation and silence. These behaviors, in turn, function to reinstate white racial equilibrium and prevent any meaningful cross-racial dialogue. In this in-depth exploration, DiAngelo examines how white fragility develops, how it protects racial inequality, and what we can do to engage more constructively."
Practicing Anti-Racism Newsletter.
Email XX Amazons for copies. These newsletters (over a dozen issues) were created by white Lesbians for any womyn wanting to learn more about Anti-Racism. An Aradia publication that came out of work at the Michigan Womyn's Music Festival.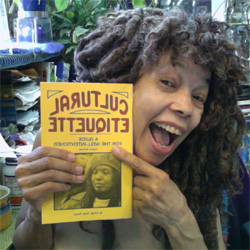 Cultural Etiquette: A Guide for the Well-Intentioned
By Amoja Three Rivers
This 27 page book was published in 1990. Quotes from Amoja Three Rivers: "Racism and the racial stereotypes it spawns are so subtly interwoven into the fabric of Western society that very often, even those with the best of intentions will display bad cultural manners. This does not necessarily mean one is a bad person. Sometimes people just don't know any better." and "Does reading this guide make you uncomfortable? Angry? Confused? Are you taking it personally? Well, not to fret. Racism has created a big horrible mess, and racial healing can sometimes be painful. Just remember that Jews and people of color do not want or need anybody's guilt. We just want people to accept responsibility when it is appropriate, and actively work for change."
The History of White People
By Nell Irvin Painter
Painter, an eminent historian, author "guides the reader through more than two thousand years of Western civilization, including the invention of race, and but also the frequent praise of "whiteness" for economic, scientific, and political ends." This book was a New York Times bestseller.
This Bridge Called My Back: Writings by Radical Women of Color
Edited by Cherrie Moraga and Gloria Anzaldua
Originally published in 1981, this anthology was ground-breaking. Reissued in 2015 by SUNY Press, this book presents "an uncompromised definition of feminism by women of color in the United States." Includes powerful prose, poetry, personal narrative, and analysis by Black, Asian American, Latina, and Native American women.
Lesbian Resources
Lesbian Connection "Lesbian Connection is the free worldwide forum of news, ideas and information for, by and about lesbians. We've been publishing this bimonthly magazine since 1974, and we mail issues out via snail mail in plain brown envelopes. (The word "lesbian" doesn't appear anywhere on the outside.) This magazine is a grassroots forum, which means it's truly written by our readers."
Old Lesbians Organizing for Change "We are a national network of Old Lesbians in our 60th year or older working to confront ageism in our communities and our country. We use education and public discourse as our primary tools… We hold biennial National Gatherings allowing us to come together to share experiences and ideas and recharge our energies for the tasks at hand… We are dedicated to preserving and enhancing the Lesbian voice as well as increasing Lesbian visibility in a world that stifles it and threatens to erase it."
Maize: A Lesbian Country Magazine. Write to P.O. Box 130, Serafina, NM 87569 to subscribe.
Special Thanks To
Max Dashu and the Suppressed Histories Archives XX Amazons gives many thanks to Max Dashu for the ancestral female icons featured in our sidebar and other areas of our website. Max Dashu founded the Suppressed Histories Archives in 1970 to research women's history internationally and understand how systems of domination established and perpetuate themselves. She has built a collection of some 15,000 slides and 100 shows.
Liza Cowan and Small Equals Thanks to Liza Cowan for her Amazons On The Move artwork featured on our About Us page and for the photo of Alix Dobkin. Liza's shop, Small Equals, "offers fine art prints, buttons and home goods with sophisticated design, affordable prices, and a belief that powerful ideas can be expressed in beautiful, positive and uplifting ways." Liza's work "found surprising fame" in 2015 when a 1975 photo she took of Alix Dobkin wearing a t-shirt with the slogan "the future is female" was discovered on her blog. Since then "the shirt and the slogan became, and remain, a worldwide viral sensation." She still has a few of "The Future is Female Buttons" she made in 1975 for sale in her shop!