by Paula Mariedaughter
Challenging Extremist Views
Challenging the extremist views present in our woman-hating culture is never easy! A handful of brave women handed out educational leaflets on Wednesday night, October 3,2018 in front of the Town Center auditorium. The University of Arkansas in Fayetteville was hosting its first distinguished lecturer event of the school year. We wanted to express our own point of view about men who claim to be women. We are not criminals or bigots for expressing our constitutional rights to free speech. The trans activists held the stage (literally) that night. The U of A invited this person who is a trans-activist as their "Distinguished Lecturer" –certainly not an invitation extended to anyone with a trans critical voice. See the press release from the university below this article.
The trans voice is now the dominate voice, and that is what they want to protect. Those of us who have concerns for all the unexpected consequences of permitting males to claim womanhood for themselves have every right to express our legitimate concerns. People who are trans activists and some trans supporters do not want our critical thinking views to be expressed in public and have gone to extremes across the country to silence our voices.
Deplatforming of feminist events
Deplatforming of feminist events is a favored way to silence our voices. Tactics often use to target women only events include threats of physical violence, verbal harassment, pressure on employers of our speakers/performers, or pressure on organizations that rent to us. Read about our own experience in Fayetteville when we were deplatformed at the 2017 Goddess Festival by trans activists pressuring and threatening the venue and the organizers of the Goddess Festival. https://xxamazons.org/story-of-the-goddess-festival/
That male celebrity, invited by the university, has stolen Sojourner Truth's "Ain't I a Woman" speech from 1851 at the Women's Rights Convention in Akron, Ohio! He is being paid to do a presentation he calls, "Ain't I A Woman: My Journey to Womanhood". Sojourner Truth's passion was about women's rights! He chooses that incredible speech by an incredible woman, then twists it into a pro-trans thing. I still feel violated by his decision–that is why I was out there at town center last Wednesday!
Our handout and our approach to people at town center that night was respectful and polite. We are acting not only for ourselves, but for women and girls everywhere, including those women who so strongly criticize us. Free speech is central to our freedoms. We may loose our legal right to freedom of speech and freedom of assembly, if we do not resist now.
Inspired by Mary McLeod Bethune
Here are the words from Mary McLeod Bethune, famed civil right activist, that I took to heart when I read them this week: "[I urge] you to fight until it's over. Never stop. If you stop now, it might be a generation before somebody else comes along to take up the fight. Why not this generation?" She was referring to implementation of equal education opportunities for all as required by the 1954 Brown v. Board of Education ruling declaring racial segregation in public schools to be unconstitutional.
It seems to me there is a parallel here–doing all we can to protect women and girls. We, in this generation of women, must not give up our voices. When the university creates an atmosphere for young scholars where even to ask questions about the claims of the trans voices is dismissed as "hate speech", clarity will not come from those in that generation. Unless, of course, we listen to the voices of the many brave de-transistioners or other young people who somehow escape the indoctrination. These are the people who have seen the inside story of the mass movement to eliminate young lesbians and gay men! These are the people who can testify to the pressures to conform to the feminine and masculine stereotypes that dominate the mainstream culture in 2018.
Our carefully crafted flyer
Here is our carefully crafted flyer–feel free to duplicate our efforts in your own community using this flyer!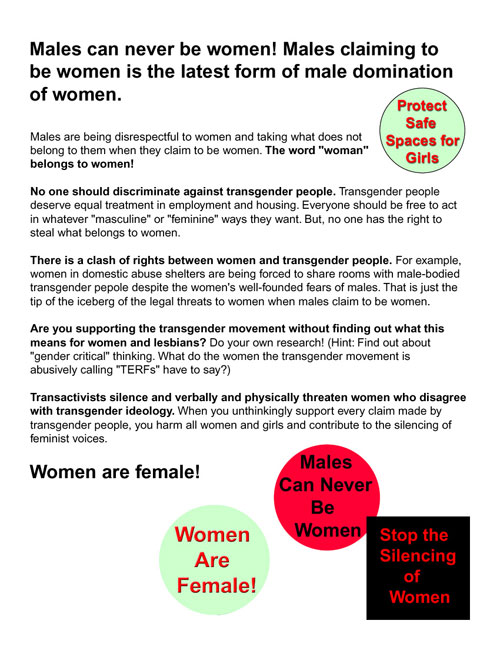 My thoughts about the university press release
The provocative, sexualized poster that the university chose to use, is itself, a message about stereotypes proscribed for females. The large photo accompanied the press release. The press release from the University of Arkansas became a messenger for "the dominate forces of the dominate culture". As radical feminists, we are always seeking the root/radical source of oppressions. We have long named the educational institutions as distributing the propaganda serving the patriarchs. Here is an excellent example–the university is "thrilled" to indoctrinate young people with the current assertion that men can be women should they so choose. In fact, it is fees extracted from young people and their parents that paid for this message!
Actual university press release
FAYETTEVILLE, Ark. – Emmy Award-winning actress, documentary film producer and civil rights advocate Laverne Cox will open the 2018-19 student-sponsored Distinguished Lecture Series with "Ain't I A Woman: My Journey to Womanhood" at 7 p.m. Wednesday, Oct. 3, at the Fayetteville Town Center.
Doors open at 6 p.m., and tickets are required. The event is free and open to the public. Because students fund the lecture series, tickets will be made available to students first who will be able to reserve tickets starting at 9 a.m. Wednesday, Sept. 19, by going to osa.uark.edu. Tickets are limited to one per student.
"We are thrilled to be able to bring such an accomplished woman to campus this early in the school year," said Christine Carroll, chair of the student Distinguished Lecture committee. "The committee has planned a slate of excellent and diverse speakers, and we look forward to kicking off the series with this dynamic presenter."
Darinda Sharp, director of communications
School of Law
479-575-7417, dsharp@uark.edu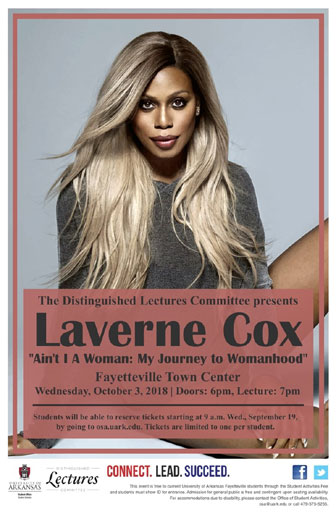 article by Paula Mariedaughter