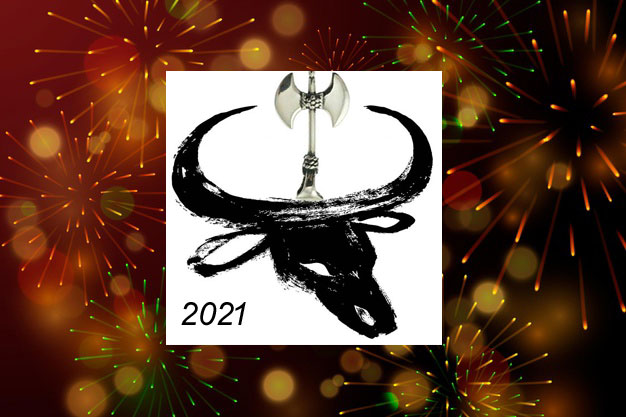 Our ancient sacred symbols surround us every day…
"… the Old European sacred images and symbols were never totally uprooted; these most persistent features in human history were too deeply implanted in the human psyche. They could have disappeared only with the total extermination of the female population." This assertion is from Marija Gimbutas in her book The Language of the Goddess.1
Our ancient sacred symbols surround us every day…
All beginnings are dark! Womb dark. Life begins in a woman's body. "For just as the child is conceived in the womb and there takes shape, so time begins in darkness, when the leaf gives up the ghost and the seed dreams in the ground and each night is longer than the last. All beginnings are dark. The world was without form and void and darkness brooded over the deep."2
I now believe my own deep, dark motherline extends back thousands of years into the extensive cultures of Old Europe and Old Anatolia. My roots on the North American continent are relatively shallow. My female ancestors lived on the group of islands now known as the British Isles. My bloodline, as is your bloodline, is ancient.
Some women, like me, have been disconnected from our ancestral roots. We are seeking a spiritual tradition and lineage directly connected to our ancestral birth line. I have reason to believe that my own bloodline reaches back to this world described by archeologist and anthropologist Marija Gimbutas.
"The woman's body was regarded as parthenogenetic, that is creating life out of itself. This ability was celebrated in religion. In Neolithic times and earlier in the Upper Paleolithic, religion centered on the feminine power, as shown by the abundance of female symbolism. Just as the female body was regarded as the goddess creatress, so too the world was regarded as the body of the goddess, constantly creating new life from itself. The imagery of Neolithic art is overwhelmingly feminine: the female body, and particularly the generative parts–vulva, uterus, or womb—are predominant. These symbols appear not only on figurines or larger sculptures of goddesses, but also on vases, cult equipment, and in tomb and temple architecture.

The goddess is nature and earth itself, pulsating with the seasons, bringing life in spring and death in winter. She represents continuity of life as a perpetual regenerator, protectress, and nourisher."3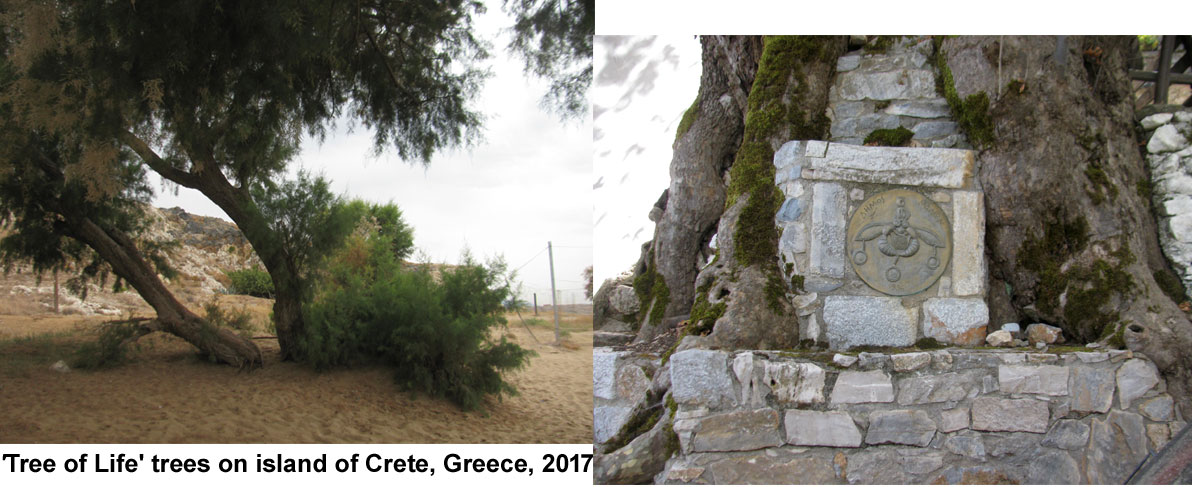 Our lives are guided by the symbols we hold dear whether we acknowledge this fact or not. As Z Budapest, witch, tarot card reader, hereditary priestess, and one of my early teachers declared, "Religion controls inner space; inner space controls outer space." Patriarchal religion and the other patriarchal institutions seek control of all the symbols we build our lives around from designer labels to business logos, from academic credentials to sports team loyalties.
Please consider the possibility of reclaiming the term religion from the patriarchal versions we know all too well! Margot Adler reminds us in her 1979 book Drawing Down the Moon, the root of the word religion "means 'to relink' and 'to connect', and therefore refers to any philosophy that makes deep connections between human beings and the universe."4
Claiming the ancient goddess religion as my own
As a consequence of my deep engagement with the women's liberation movement, which I embraced in the early 1970s, I became a woman seeking an authentic spiritual tradition connected to my own ancestral birth line. How to start such an enormous undertaking? One inspiration came during the 1978 keynote address by Carol Christ at the Great Goddess Re-emerging Conference, Santa Cruz, CA. This astute observation from Carol struck me, "Symbol systems cannot simply be rejected; they must be replaced. Where there is no replacement, the mind will revert to familiar structures at times of crisis, defeat or bafflement."
I'd already begun my own self-education learning to love women and to reclaim the history of women's resistance erased by the institutions of patriarchy. The clarity of these directions and the warning that our minds "will revert to familiar structures at times of crisis, defeat or bafflement" has echoed in my consciousness for decades!
I find it interesting how our intuitive selves are drawn to symbols before our "knowing" mind catches up. When I look around my decorated house today I see multiple depictions of reindeer, both large and small. In late December, I happened upon Judith Shaw's article about the reindeer goddess of Northern Europe where my paternal line originated in Denmark. Shaw wrote, "The Reindeer was a sacred animal to our ancient ancestors of Northern Europe. The doe was seen as the giver of light and life. Their horns were associated with the tree of life and often times they were depicted carrying the sun, the giver of life, in their horns."5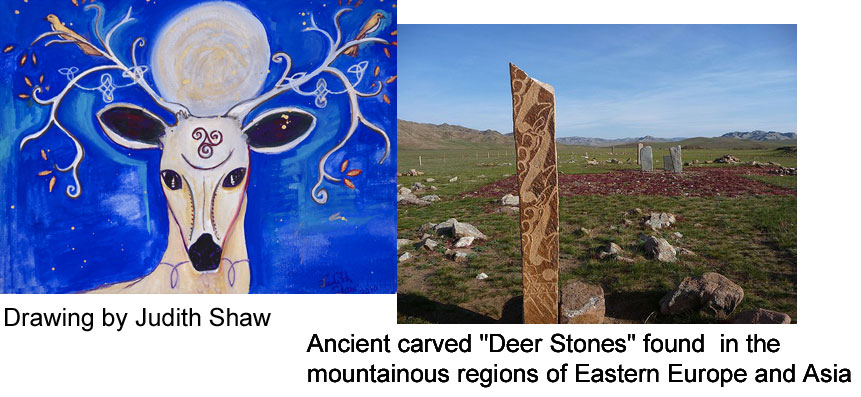 One of my favorite parts of the article: "Reindeer are the only members of the deer family whose females have horns and are stronger and larger than the males. The males shed their antlers in winter, leaving it to the Deer Mother to fly through the long, dark night of Winter Solstice. The Reindeer was a sacred animal to our ancient ancestors of Northern Europe."6 Please visit here for more discussion.
We are now a week past the winter solstice. That longest night of the year births the short days of midwinter (at least in the northern hemisphere). Life begins in the dark interior of a woman's body. The vulva, our external genitalia, is seen "as the concentrated life-producing part of the Goddess in her birth-giving functions". This symbol of the Mother Goddess is encountered by archaeologists on rocks around the globe including an engraving on a one-and-a-half ton limestone rock at Abri Castanent, a collapsed rock shelter in France dating to about 37,000 years ago (reported in Archeology Magazine January, 2013).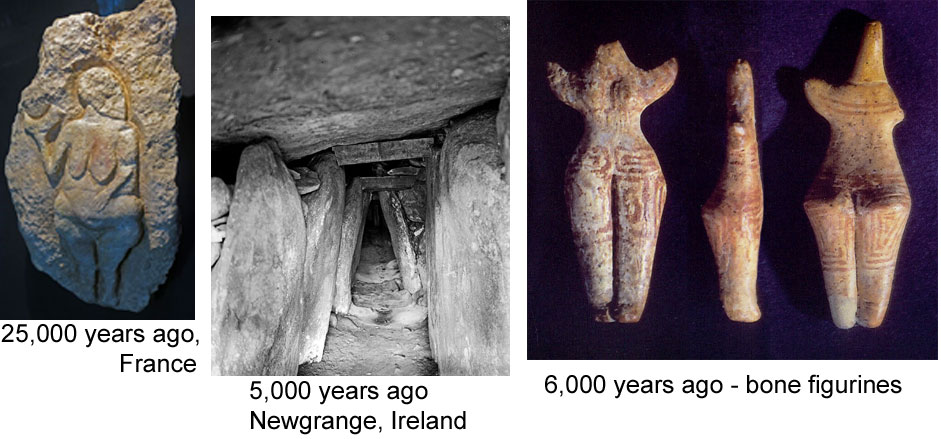 Respect for women and respect for the earth cannot be separated. Vulva, uterus, womb are the essential source of human life. Pornographic representations of women and our genitalia deny this basic reality. Disregard for our interconnections, the web of life on planet earth, is yet another pornographic lie.
Other women, and people living in other cultures, especially native cultures and indigenous cultures, have not been disconnected from their ancestral roots and ancient homelands allowing them to claim their spiritual traditions and their understandings about the central place of women in "the processes and patterns of continuous creation". I value and respect the knowledge these indigenous women are willing to share. I can glimpse my own past in their present. Katsi Cook shares her vision as a midwife.7
"In my vision as a Mohawk midwife, reproductive justice and environmental justice intersect at the nexus of women's blood and voice; at the very centrality of woman's role in the processes and patterns of continuous creation. Of the sacred things that there are to be said about this, woman is the first environment; she is an original instruction. In pregnancy, our bodies sustain life. Our unborn see through our eyes and hear through our ears. Everything the mother feels, the baby feels, too. At the breast of women, the generations are nourished. From the bodies of women flow the relationships of those generations, both to society and to the natural world. In this way our ancestors said, the earth is our mother. In this way, we as women are the earth."7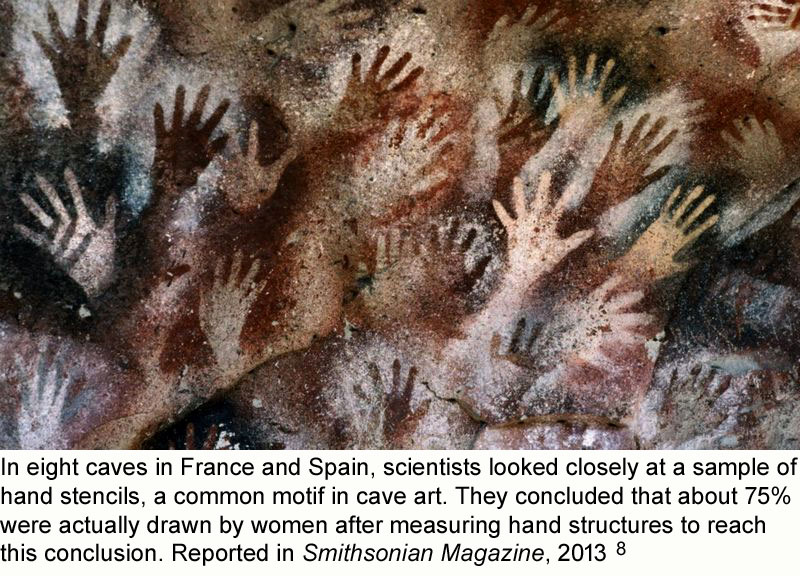 "…we as women are the earth." Those ancient cave drawings found in different areas of old Europe and Old Anatolia and around the world appear to be expressing the same understanding. A community of women and their clan gathered to press their hands along the rocks of mother earth. This simple, yet complex, understanding existed in our ancient ancestors who learned to honor and cooperate with mother earth. 'Woman is earth' is deeply implanted in the human psyche both yours and mine.
Notes
1 The Language of the Goddess: The World of Old Europe 1989 p.318
2 The Return of the Goddess: A Divine Comedy, a novel by Elizabeth Cunningham, 1992 p.19
3 The Living Goddesses, Maria Gimbutas 1999 p.112-113
4 Drawing Down the Moon: Witches, Druids, Goddess-Worshippers, and Other Pagans in America Today, Beacon Press 1979 p. 12
5 https://feminismandreligion.com/2016/12/18/the-reindeer-goddess-by-judith-shaw/
6 https://feminismandreligion.com/2016/12/18/the-reindeer-goddess-by-judith-shaw/
7 Quote from Katsi Cook "Powerful Like a River: Reweaving the Web of Our Lives in Defense of Environmental and Reproductive Justice" essay in Original Instructions: Indigenous Teachings for a Sustainable Future, 2008 ed Melissa K. Nelson p.155-156
8 https://www.smithsonianmag.com/smart-news/ancient-women-artists-may-be-responsible-for-most-cave-art-1094929/