By Jeanne Neath
When non-essential surgeries including 'gender reassignment surgery' became difficult to obtain during the COVID-19 pandemic, many 'transgender' people became distressed. As NBC News reported, 31 year old Katalina Murrie, a Canadian 'transgender' male, had scheduled a facial feminization procedure "to soften one's facial features and bone structure" with a surgeon in Guadalajara, Mexico for March 27th 2020. Even pre-COVID-19, the Canadian health system considered this cosmetic surgery non-essential and would not pay for it. With the pandemic, international travel no longer felt like an option to Murrie. Distraught at having to miss his surgery, Murrie told NBC News:
"What if all the borders closed around the world and I am stuck in a foreign country?" Murrie recalled asking herself. "My face would be covered in stitches. I'd have to travel through popular airports where there have been confirmed reports of staff members with COVID-19. My dream surgery all of a sudden became very stressful." (NBC News, "Trans surgeries postponed indefinitely amid coronavirus pandemic")
Murrie considered the facial feminization procedure anything but "non-essential" and groused about his situation, saying "I'm not gonna last to my 40s if I don't have this surgery."

The COVID-19 pandemic has forced hospitals facing an overload of patients and procedures to prioritize what kinds of care they will provide. Cosmetic surgeries done on the healthy bodies of 'transgender' people became clearly inappropriate, impossible to perform in the face of an overload of sick and dying patients during the COVID-19 pandemic.
The pandemic, a result of human-caused ecological disturbances, is providing a preview into an unfolding ecological society. With the overconsumption in the global North the Earth is being pushed to her limits and she is forcing society onto a budget. As a result, 'gender reassignment' medical treatments, including surgeries, puberty blockers and cross-sex hormones are likely to become socially unacceptable, even impossible for society to provide as we shift into ecological sanity. Neither the Earth nor society can afford for queer ideology and the Internet driven transgender fad to continue pushing so many young people into a life of medical complications and dependency on medical services.
Insatiable Desires
When Katalina Murrie told NBC News "I'm not gonna last to my 40s if I don't have this surgery", he provided a clue to the mental state of many in the transgender movement. 'Transgender' people have placed themselves in the very unsettling situation of building a movement and individual identities based in a lie and a theft. The lie, of course, is that sex can be changed. The theft takes place when 'transgender' males assume the identity of an oppressed group – women. Since 'transgender' people cannot change their sex, all the surgeries and hormones in the world will never give them what they want, will never allow them to feel satisfied with their bodies or secure in their identities.
The impossible goals and insatiable desires of 'transgender' people remind me of Robin Wall Kimmerer's discussion of the Windigo in her book, Braiding Sweetgrass.[1] A member of the Citizen Potawatomi Nation, Kimmerer explains that the Windigo is the "legendary monster" of the Anishinaabe people of the north woods of North America, a human being whose inability to cope with winter's starvation time drives them into cannibalism. In Kimmerer's word:
"It is said that the Windigo will never enter the spirit world but will suffer the eternal pain of need, its essence a hunger that will never be sated. The more a Windigo eats, the more ravenous it becomes… its mind a torture of unmet wants."[2]"
Of course, the vast majority of 'transgender' people are in no way monsters or legendary, but Kimmerer's description of the "mind a torture of unmet wants" seems to fit. Kimmerer uses the story of the Windigo as a powerful means of critiquing the unrestrained consumption of so many in the dominant society and their complicity in the destruction of the natural world.
"The fear for me is far greater than just acknowledging the Windigo within. The fear for me is that the world has been turned inside out, the dark side made to seem light. Indulgent self-interest that our people once held to be monstrous is now celebrated as success. We are asked to admire what our people viewed as unforgiveable. The consumption-driven mind-set masquerades as 'quality of life' but eats us from within. It is as if we've been invited to a feast, but the table is laid with food that nourishes only emptiness, the black hole of the stomach that never fills. We have unleashed a monster."[3]
Insatiable desire "eats us from within" and leads to a person who can't stop taking, attempting somehow to sate the desire. Like the rest of consumer society, 'transgender' people, who want to be what they can never be, indulge in a frenzy of taking – usurping women's identity, pirating women's and Lesbian spaces, snatching symbols from Lesbian-feminist culture, insisting on medical services for non-essential needs, taking Earth's "resources" used in providing those non-essential medical services.
---
Like the rest of consumer society, 'transgender' people, who want to be what they can never be, indulge in a frenzy of taking – usurping women's identity, pirating women's and Lesbian spaces, snatching symbols from Lesbian-feminist culture, insisting on medical services for non-essential needs, taking Earth's "resources" used in providing those non-essential medical services.
---
What creates the insatiable desire that leads to all this taking? For 'transgender' people, an obvious cause is a patriarchal society that forces girls and boys, women and men into suffocating sex roles. In a society that tears apart and builds over nature, society's sex roles can seem more real, more fixed than nature. Rather than work to change society's deadly sex role prescriptions, most 'transgender' people have elected to deny and reject their own sexed bodies.
Our bodies, of course, are part of the natural world – part of our internal nature [4] – as are our minds, our emotions, our selves. Denial and rejection of the physical realities of one's body is a sign of a deep and dangerous alienation from nature. The dominant society routinely creates people who are alienated from both internal and external nature and this alienation is another root of the transgender phenomenon.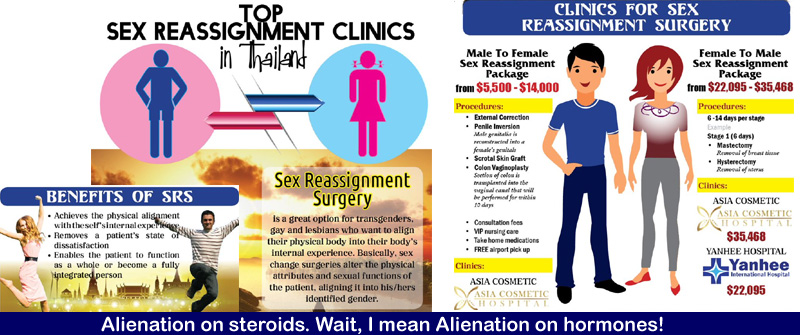 Western Civilization Creates the Alienated Self
What creates an alienated self? It is not just transgender people who are alienated from their bodies and from nature. The alienated self appeared in Western civilization at least as early as Homer's era in ancient Greece when "a dominant warlike race established themselves over the mass of vanquished natives." [5] To understand the creation of the alienated self, I want to turn to Max Horkheimer and Theodor Adorno's 1945 book, Dialectic of Enlightenment. These two philosophers can be difficult to read, so Carolyn Merchant can serve as our interpreter in this section. Here's Merchant on the central character in Homer's The Odyssey:
"Odysseus represents the struggle to overcome the imitation of nature and immersion in the pleasures of animal life and tribal society. Through the emergence of his own identity as an individual self, he is able to break the hold of the mythic past and control his animal instincts, his men, his wife, and other women. He becomes alienated from his own emotions, bodily pleasures, other human beings and nature itself."[6]
Where people in more peaceful societies experienced themselves as part of nature, imitated nature, and experienced nature as sacred, Merchant explained that "In the ancient world the emergence of a sense of self as distinct from the external natural world entailed a denial of internal nature in the human being."[7]
The alienation of self increased dramatically during the European Age of Enlightenment in the 17th and 18th centuries. At this time the elevation of mind, reason, prediction and control resulted in the "disenchantment of the world"[8] (and increasing domination of nature and humans with the expansion of patriarchy, colonialism and capitalism). The deeply felt perception that nature (and women) are sacred was further lost in the West.
Today most people living in cities rarely think of nature as the provider of all the physical materials they need to live – materials for shelter, water, energy, food, medicine. Many don't know much about the natural world and don't feel a spiritual connection to nature. Many live "in their heads" and feel deeply dissatisfied with their bodies.
'Transgender' people are not that different. But, they do take alienation to an extreme when they deny the physical reality of their sexed bodies. The alienation escalates even more when they take action against their own bodies by undergoing 'gender reassignment' treatments. This desecration of 'internal nature' leads to the desecration of external nature. As Merchant explained, "The disenchantment of external nature was achieved by despiritualizing a human being's internal nature."[9]

Pigs Can Fly? Growth is Green? Males Claim To Be Women? Technology Saves All?
The only strand of the environmental movement compatible with a trans-ideology that pushes 'gender reassignment' and medicalization is "ecomodernism" or, more broadly, "green growth." Environmentalists subscribing to "green growth" philosophies are, like many 'transgender' people, stuck in fantasies about an impossible future where technology saves the day and overcomes biological, ecological and even thermodynamic limits. Both "green growth" and transgender ideologies are based in the anti-ecological and old-fashioned Enlightenment perspective that underlies "modernity" and the myth of progress.
Ecomodernists want the living standards of industrialized societies to continue rising and for high consumption lifestyles to spread into the global South. They believe, contrary to all evidence, that economic growth can be "decoupled" from environmental damage. What magic will they use to accomplish the impossible? New and improved technology, of course, with some population reduction and efficiency improvements tossed into the mix. All this "progress" would require an increase in energy production that could only be powered by nuclear energy. The authors of "An Ecomodernist Manifesto" explain:
"Transitioning to a world powered by zero-carbon energy sources require energy technologies that are power dense and capable of scaling to many tens of terawatts to power a growing human economy. Most forms of renewable energy are, unfortunately, incapable of doing so.… Nuclear fission today represents the only present-day zero-carbon technology with the demonstrated ability to meet most, if not all, of the energy demands of a modern economy….In the long run, next-generation solar, advanced nuclear fission, and nuclear fusion represent the most plausible pathways toward the joint goals of climate stabilization and radical decoupling of humans from nature."[10]
Nuclear energy is a dangerous technological choice to hang your hat on. At least the surgeries and drugs that many transgender people depend on do not have the power to irradiate the Earth. These technologies can never be the "cure-all" that ecomodernists and transgenderists desire. They just avoid dealing with the real problems which are social.

Most modern technology has grown out of systems of thought belonging to a patriarchal, colonialist, and capitalist system. These technologies must always be questioned. The transgender project is a crude early step on the techno-utopian[11] path that wants to create humans who are essentially different from the species nature created many millenia ago. For example, researchers are now using CRISPR technology for germline genetic engineering to create superhumans. Researchers studying artificial intelligence may soon have machines that are smarter than humans. All these technologies, including the ones used for 'gender reassignment,' would be carefully controlled or outlawed if this society were not based in domination and profiteering.
Ancient Connections
The ecologically unsound transgender project will not withstand the force of nature's revolt. Already more and more girls and women who 'transitioned' are in revolt against the squelching of their female nature. They are detransitioning, re-identifying as female. Nature's revolt is forcing a paradigm shift on the dominant society and the coming ecological society will not be able to afford the non-essential surgeries, unnecessary medical dependencies, insatiable desires and thefts from women, alienation from nature and use of questionable technologies for questionable purposes. An ecological society will have to be based in hard reality and this will not leave room for fantasies of becoming a different sex.
The way "forward" in these volatile times will include a spiraling "back" toward our species' ancient connections with Earth and with our own nature. It isn't hard to start forming these connections. Take a walk and let your feet feel the Earth with every slow step you take.[12] Find out how to use the different species of lichen and mosses to determine direction.[13] Learn what is going on outside your house by becoming familiar with what the birds are telling you. Then listen to the bird's language every chance you get.[14] The changing Earth and the changing times are unsettling. But this part can be an adventure!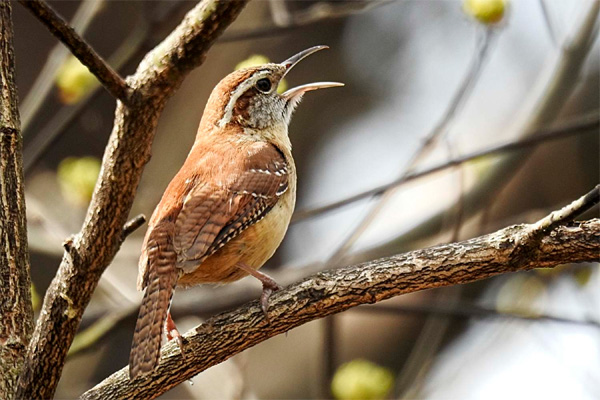 Footnotes
1. Please note that I am the one making the link between 'transgender' people and the Windigo. Robin Wall Kimmerer does not discuss this.
2. p. 305, Braiding Sweetgrass: Indigenous Wisdom, Scientific Knowledge, and the Teachings of Plants.
3. p. 308, Braiding Sweetgrass: Indigenous Wisdom, Scientific Knowledge, and the Teachings of Plants.
4. As humans we are, of course, influenced by both our biology and our society in much of what we do and experience. I am using the concept of 'internal nature' here to include human biology, but also other aspects of our internal being. In a broad sense human society in all its many forms is part of nature. So-called 'gender identity' is a socially created self-perception derived from deep internalization of male or female sex roles and the belief that those socially-created sex roles are fixed, even biological. 'Gender identity seems to be based in a self-evaluation of how well one's physical characteristics, preferences and predispositions fit with male vs female sex roles and stereotypes of what male vs. female bodies look like. There is no fixed, essential, biological gender identity as the transgender movement claims. Take away sex roles and sex stereotypes and "poof", 'gender identity vanishes too.
5. p. 48, "The Concept of Enlightenment" by Max Horkheimer and theodor Adorno. In Ecology: Key Concepts in Critical Theory edited by Carolyn Merchant
6. p. 3-4, Carolyn Merchant, Introduction to Ecology: Key Concepts in Critical Theory
7. p. 3, Carolyn Merchant, Introduction to Ecology: Key Concepts in Critical Theory
8. p. 44, "The Concept of Enlightenment" by Max Horkheimer and theodor Adorno. In Ecology: Key Concepts in Critical Theory edited by Carolyn Merchant
9. p. 4, Carolyn Merchant, Introduction to Ecology: Key Concepts in Critical Theory
10. An Ecomodernist Manifesto, https://static1.squarespace.com/static/5515d9f9e4b04d5c3198b7bb/t/552d37bbe4b07a7dd69fcdbb/1429026747046/An+Ecomodernist+Manifesto.pdf
11. See Part Three, beginning on page 133 in Bill McKibben's book Falter: Has the Human Game Begun to Play Itself Out for a discussion of chilling technologies under development that will change what it means to be human – unless they are stopped.
12. See Tom Brown's Field Guide to Nature Observation and Tracking
13. See The Lost Art of Reading Nature's Signs: Use Outdoor Clues to Find Your Way, Predict the Weather, Locate Water, Track Animals―and Other Forgotten Skills by Tristan Gooley
14. See What the Robin Knows: How Birds Reveal the Secrets of the Natural World by Jon Young